Nose on the News:




Schnauzer Schmooze!

The WINNER! --"Max" - is the winner of the recent calendar photo contest on our fourm. He is owned & loved by Anna Elliot. The forum creates calendars from our photo contest entries each year. The calendars are sold and proceeds donated to a canine charity. The contest this year was our biggest ever! Congratulations to Max and Anna!
Breed Health Research
Juvenile Renal Disease
AMSC and partner researchers continue investigations into juvenile kidney problems which seem to run in some "families" in the breed. Please click on the link to learn more and how you can help.
Liver Shunt Study in U.S.
Cornell Univ. and AMSC request DNA samples. Liver shunts are a serious problem affecting some lines in the breed. Read more about the U.S. efforts here.
Liver Shunt Study in Europe
Are you interested in K9 liver shunt research but you are living in Europe? There is a separate research effort there. For more information, please e-mail my Dutch friend Yvonne
Hyperlipidemia Research
Veterinary scientists at Texas A&M University have received funding from Morris Animal Foundation to study hyperlipidemia - a potentially "silent" disease in 33% of all Minis. Blood samples are needed for the study. If you are interested, please click here to see additional information on the AMSC website.


Diabetic Dog (and cat) ALERT!!!

FDA Announcement - Nov. 2, 2009
If your diabetic dog uses a product called "Vetsulin" it is imperative that you contact your vet immediately. FDA and Intervet/Schering-Plough Animal Health, manufacturer of the product, say it may be "unstable" and cause "unpredictable surges of insulin" in diabetic animals. Read more. . .
Canine Legislation
What is happening in your area?
Legislation involving dogs and breeders - both helpful and harmful - is happening across our country. Responsible pet owners should be aware of bills and proposals that could affect our rights to have pets in the home. Please read the links below.
??
NEW! Puppy Record Books!
??
??
See a complete preview of these charming puppy books by clicking on the picture above. Breeders - give new owners vital information in a book that they will add photos and documentation to as puppy grows. New owners: buy a book to write your new puppy's "story" from birth to one year! Pink for girls and blue for boys - exactly the same inside! Great gifts for friends or family
!
?
Welcome to Simply Schnauzers!
You've arrived at the gateway to a unique resource for Miniature Schnauzer owners!
Simply Schnauzers strives to provide a number of information resources to assist you in improving & maintaining a quality lifestyle for your dog. Subscribe to The MINI Magazine or join the Simply Schnauzers Discussion Forum. Browse our health & nutrition section for links we suggest may be helpful in your quest for useful material. Our list of rescue groups & our list of breed clubs may also come in handy!
Plans for the
2010 Worldwide MS Yearbook
have begun!
2010 marks our 6th edition! - The yearbook honors the achievements of Mini Schnauzers around the world and we invite and encourage owners of dogs that have found success in the show ring during 2010 to participate. CERTAIN SPECIAL OFFERS - INCLUDING FREE PAGES - ARE AVAILABLE THROUGH DECEMBER FIRST. LAST DAY TO RESERVE A PAGE IN THE BOOK IS JANUARY 8, 2011. The 2009 yearbook is pictured here. You may still order both the 2008 & 2009 books from Blurb. Other limited back issues may be available. Please click the following link to read more about the 2010 publication and all of our back issues.
?




??
Looking for a (Reputable) Breeder?
??

Finding a reputable breeder can be a bit scary these days! Impressive (sometimes religion-oriented) websites, breeders who ship puppies on certain days of the week every week, breeders who accept credit cards and make online sales - ALL of these are potential warning signs of big money-making puppy millers.

Before you make an investment in a puppy, check out our e-guide on how to identify a GOOD breeder and increase the chances that you will buy a healthy, well-adjusted puppy. The e-book includes a list of questions you should ask all the breeders you speak with, the potential warning signs of scamming websites, a shopping list, a list of regional club breeder referral contacts, AND a Breeder Comparison Chart you can print out and use as you interview various breeders.Click here to go to the Puppy Smart website...

To continue reading about breeders here on Simply Schnauzers, Click right here...
Looking for a Breed Club? Check our list!
If you have the dog but you need some guidance, training, or just moral support, a local or regional breed club may be the perfect answer for you. We have a list of contacts & websites for active breed clubs in this country. If you are a breed club member and need to change info here or announce an event, please do contact us! We'll help you get the word out!
?

Shows & Event Information

Clubs are welcome to send info/links about events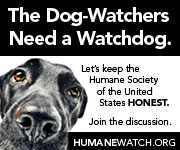 Visit HumaneWatch.org
??
??
??